#USSOBOOKHOUR is a monthly Zoom talk among scholars, postgraduates, early-career researchers, and the public. We invite scholars in American Studies to introduce their latest publications that generate heated debates, innovative ideas, meaningful conversations, and spark thought.  Each talk lasts for about 30 minutes, followed by a Q&A session (or a roundtable discussion). #USSOBOOKHOUR is an opportunity for scholars to share their most original voices and connect with young researchers and readers, and we are pleased to offer an honorarium for our invited speakers. Anyone is welcome to join the talk.
Get in touch with Dr. Ciarán Leinster, the Global Relations Editor of USSO and #USSOBookhour Organizer, at usso@baas.ac.uk  if you would like to co-host, be invited to take part in, or ask questions about #USSOBookhour
To view all historic Book Hour events, look here.
Our Next #USSOBOOKHOUR with Dr. S. Jonathon O'Donnell
Wednesday 18th May at 16:00 (BST) on Zoom – Register here
USSO's final Book Hour of the academic year will be a talk with S. Jonathon O'Donnell about their book,
Passing Orders: Demonology and Sovereignty in American Spiritual Warfare
(Fordham UP, 2021).
Passing Orders: Demonology and Sovereignty in American Spiritual Warfare is a pathbreaking, interdisciplinary study of evangelical demonologies in the post-9/11 United States. Situating evangelical practices of "spiritual warfare" as part of broader frameworks of American exceptionalism, ethnonationalism, and empire management, the book exposes the theological foundations of the systems of queer- and transphobia, antiblackness, Islamophobia, and settler colonialism that justify the dehumanizing practices of the current U.S. political order. At the same time, however, Passing Orders reads these demonologies against themselves, reimagine the demons they conjure as surprising sources of political and spiritual resistance, reflecting fragile and fractious communities bound by mutual passing and precarity into strategic coalitions of subversion, solidarity, and survival.
Dr. S. Jonathon O'Donnell
is Visiting Scholar in the School of Natural and Built Environment at Queen's University Belfast and Adjunct Assistant Professor in Religions and Theology at Trinity College Dublin. Their research explores the relation between religious demonologies and systems of dehumanisation in the contemporary United States. They have published over a dozen articles in journals such as
Religion, Ethnic and Racial Studies
, and 
Environmental Humanities
. 
Passing Orders 
is their first monograph.
Oceans at Home: Maritime and Domestic Fictions in Nineteenth-Century American Women's Writing by Dr. Melissa Gniadek
For our second Book Hour of the year, Dr. Melissa Gniadek will discuss her new book, Oceans at Home: Maritime and Domestic Fictions in Nineteenth-Century American Women's Writing (University of Massachusetts Press, 2021). The maritime world was central to nineteenth-century America, and ideas about the ocean, seafaring, and encounters with distant peoples and places suffused the cultural imagination. Women writers who were not mariners themselves incorporated oceanic representations and concerns into their work, often through genres that were generally not associated with the sea, such as children's fiction, diaries, and female coming-of-age stories.
Dr. Gniadek explores the role of the ocean, with particular attention to the Pacific, in a diverse range of literary texts spanning the late 1820s through the mid-1860s from Lydia Maria Child, Caroline Kirkland, Harriet Beecher Stowe, Elizabeth Stoddard, and Harriet Prescott Spofford. Oceans at Home shows that authors employed maritime plots and stories from distant locations to probe contemporary concerns facing the continental United States, ranging from issues of gender restrictions in the domestic sphere to the racial prejudices against indigenous peoples that lay at the heart of settler colonialism.
Dr. Melissa Gniadek is an Associate Professor in the Department of English at the University of Toronto. Her research and teaching centers on nineteenth-century U.S. literature and culture. In addition to her recent book, Oceans at Home: Maritime and Domestic Fictions in Nineteenth-Century American Women's Writing, she is the author of essays in journals including American Literature, Early American Literature, J19: The Journal of Nineteenth-Century Americanists, Legacy: A Journal of American Women Writers, New Global Studies, and Lateral: Journal of the Cultural Studies Association.  Other recent publications include chapters in edited collections on American apocalypse and on decolonising "Prehistory."
Disaffected: The Cultural Politics of Unfeeling in Nineteenth-Century America by Dr. Xine Yao
The first Book Hour of 2022 featured Dr. Xine Yao discussing her new work, Disaffected: The Cultural Politics of Unfeeling in Nineteenth-Century America (Duke University Press, 2021). In Disaffected Dr. Yao explores the racial and sexual politics of unfeeling — affects that are not recognised as feeling—as a means of survival and refusal in nineteenth-century America. She positions unfeeling beyond sentimentalism's paradigm of universal feeling. Yao traces how works by Herman Melville, Martin R. Delany, Elizabeth Stuart Phelps, Frances Ellen Watkins Harper, and Sui Sin Far engaged major sociopolitical issues in ways that resisted the weaponisation of white sentimentalism against the lives of people of color. Exploring variously pathologised, racialised, queer, and gendered affective modes like unsympathetic Blackness, queer female frigidity, and Oriental inscrutability, these authors departed from the values that undergird the politics of recognition and the liberal project of inclusion. By theorising feeling otherwise as an antisocial affect, form of dissent, and mode of care, Yao suggests that unfeeling can serve as a contemporary political strategy for people of color to survive in the face of continuing racism and white fragility.
Dr. Xine Yao is Lecturer in American Literature to 1900 at University College London. 
Their first book is Disaffected: The Cultural Politics of Unfeeling in Nineteenth-Century America which has won Duke University Press's Scholars of Color First Book Award (November 2021). 
Her honours include the American Studies Association's Yasuo Sakakibara Essay Prize and their research has been supported by grants from the Social Sciences and Humanities Research Council of Canada. She is a BBC Radio 3/AHRC New Generation Thinker and the co-host of PhDivas Podcast.
William Faulkner and Mortality: A Fine Dead Sound with Dr. Ahmed Honeini
Here, Dr. Ahmed Honeini discusses his book, William Faulkner and Mortality: A Fine Dead Sound (Routledge, 2021). This is the first scholarly monograph on the topic of death in Faulkner's major fiction. The book challenges earlier scholarship that claimed that writing was Faulkner's authorial method of 'saying No to death.' Instead, through close readings of six key texts, the book examines how Faulkner's characters confront various experiences of human mortality, including grief, bereavement, mourning, and violence. The trauma and ambivalence caused by these experiences ultimately compel Faulkner's characters to 'say Yes to death.'
Dr. Ahmed Honeini, of Royal Holloway, University of London, is the author of William Faulkner and Mortality: A Fine Dead Sound. He is also the Associate Editor of the Faulkner Journal and the founding director of the Faulkner Studies in the UK Research Network (@Faulkner_UK on Twitter). His forthcoming publications include articles on Faulkner Studies in Europe; Vladimir Nabokov; and Cormac McCarthy. He is currently at work on his second book, on family, homelessness, and exile in Tennessee Williams's plays.
Reagan, Congress, and Human Rights: Contesting Morality in US Foreign Policy with Dr. Rasmus Sinding Søndergaard
Dr. Søndergaard's talk is based on his recent book,
Reagan, Congress, and Human Rights
(Cambridge UP, 2020), which traces the role of human rights concerns in US foreign policy during the 1980s, focusing on the struggle among the Reagan administration and members of Congress. He argues that pressure from Congress pushed the administration to reconsider its approach to human rights and craft a conservative human rights policy shaped by anti-communism and selective democracy promotion. Through a number of case studies, he shows how liberals and conservatives selectively invoked human rights to further their agendas. He argues that this helped cement human rights as the core moral language in US foreign policy but also further politicized the meaning of the concept with a lasting impact on US human rights policy. You can view his talk with the following Q&A
here
.
Dr. Rasmus S. Søndergaard is a Senior Researcher at the Danish Institute for International Studies, specializing in U.S. foreign policy, human rights history, and democracy promotion. His current research examines American visions for uniting the democracies of the world from the Cold War to the present. He is the author of Reagan, Congress, and Human Rights (Cambridge University Press, 2020) and several book chapters and articles published in journals like International Politics, Diplomacy & Statecraft, and the Journal of Cold War Studies. Previously, he was a Marie-Curie Fellow at Lund University and a Carlsberg Foundation postdoc at Georgetown University. He frequently contributes commentary on U.S. politics and foreign policy in Danish media.
Liner Notes for the Revolution: The Intellectual Life of Black Feminist Sound with Prof. Daphne Brooks
Award-winning Black feminist music critic Daphne A. Brooks's new book Liner Notes for the Revolution: The Intellectual Life of Black Feminist Sound explores more than a century of music archives to examine the critics, collectors, and listeners who have determined perceptions of Black women in the recording studio and on stage. How is it possible, Daphne asks, that iconic artists such as Aretha Franklin and Beyoncé exist simultaneously at the center and on the fringe of the culture industry?
Prof. Daphne A. Brooks is William R. Kenan Jr. Professor of African American Studies and Professor of Theater Studies, American Studies, and Women's, Gender, and Sexuality Studies at Yale University and the author of Jeff Buckley's Grace and of Bodies in Dissent, winner of the Errol Hill Award for outstanding scholarship in African American performance studies. She has written liner notes to accompany the recordings of Aretha Franklin, Tammi Terrell, and Prince, as well as stories for the New York Times, The Guardian, The Nation, and Pitchfork. You can view her talk with the following Q&A here.
---
Perceiving allegory: a discussion of Dr Thomas J. Cobb's book, American Cinema and Cultural Diplomacy: The Fragmented Kaleidoscope. 
In this Book Hour discussion, Dr Thomas J Cobb discusses his experience of writing
American Cinema and Cultural Diplomacy: The Fragmented Kaleidoscope
, a project based on his PhD thesis. Cobb will detail the challenges of expanding on the content of his PhD thesis, encompassing new methodologies in individual chapters and contending with the effect of Covid-19 on the predictions made in his final chapter. Cobb will be joined in discussion by Dr. Simon Willmetts of Leiden University and Kari Sund of Glasgow University. You can view the discussion
here
.
---
Living Jim Crow: The Segregated Town in Mid-Century Southern Fiction (Edinburgh University Press, 2020) by Gavan Lennon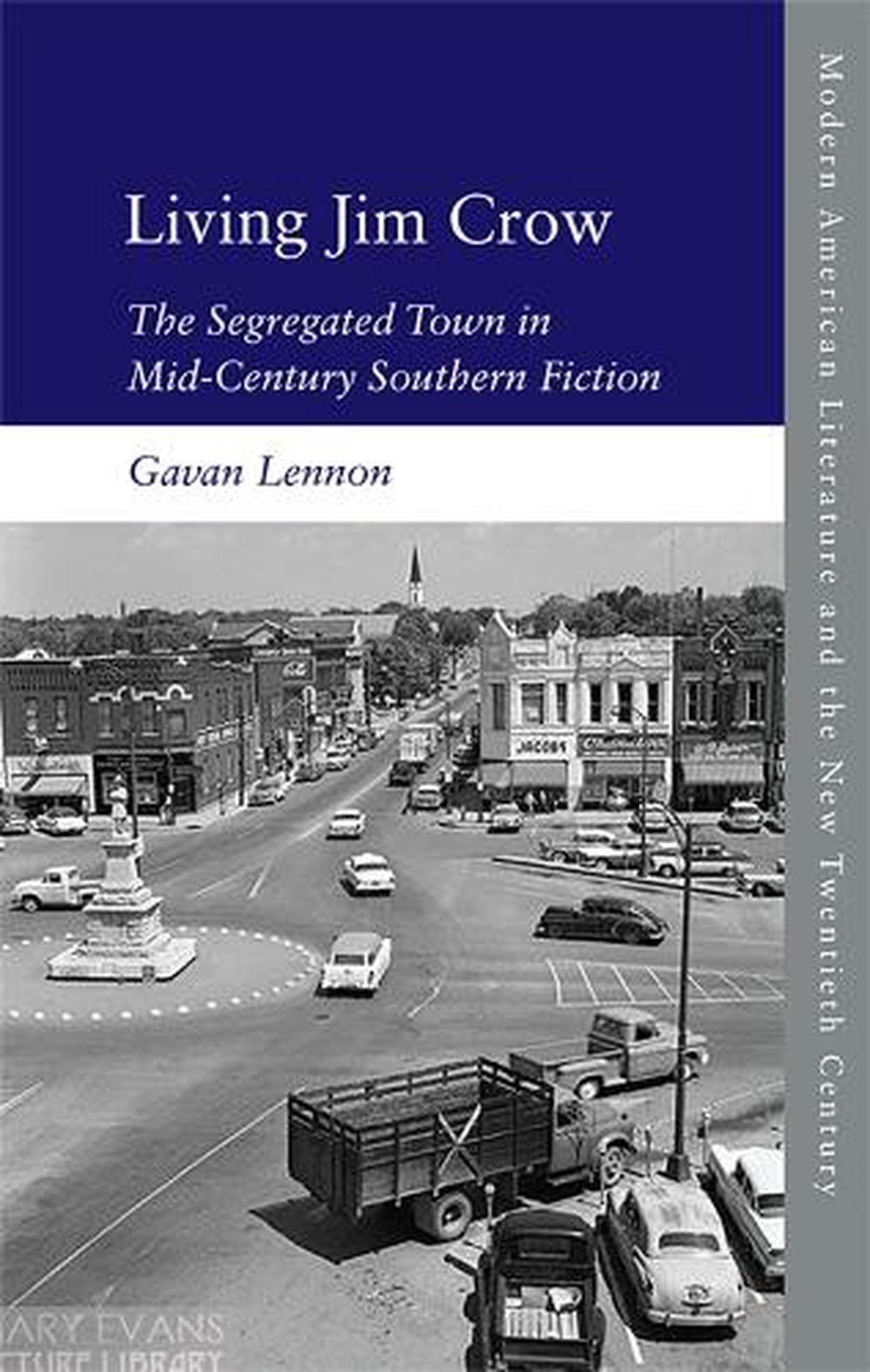 Analysing the ubiquity of the small town in fiction of the mid-century US South, Living Jim Crow is the first extended scholarly study to explore how authors mobilised this setting as a tool for racial resistance. With innovative close readings of Zora Neale Hurston, Richard Wright, Lillian Smith, Byron Herbert Reece, Carson McCullers, William Faulkner and William Melvin Kelley, the book traces the relationship between activism and aesthetics during the long civil rights movement. Lennon reframes a narrative of southern literature during the period as one as one characterised by an aesthetics of protest, identifying a new mode of reading racial resistance and the US South.
Gavan Lennon
is Associate Head of School for Student Experience in Coventry University's School of Humanities. Gavan's research explores the relationship between the politics of  Black freedom struggle and literary form. 
Living Jim Crow
 is his first book, and his current research charts the aesthetics of racial protest in the literature of the #BlackLivesMatter movement since 2012. You can view his talk with the following Q&A
here
.
---
Advocates of Freedom: African American Transatlantic Abolitionism in the British Isles (Cambridge University Press, 2020) by Hannah-Rose Murray
During the nineteenth century and especially after the Civil War, scores of black abolitionists like Frederick Douglass, Moses Roper and Ellen Craft travelled to England, Ireland, Scotland, and parts of rural Wales to educate the public on slavery. By sharing their oratorical, visual, and literary testimony to transatlantic audiences, African American activists galvanised the antislavery movement, which had severe consequences for former slaveholders, pro-slavery defenders, white racists, and ignorant publics. Their journeys highlighted not only their death-defying escapes from bondage but also their desire to speak out against slavery and white supremacy on foreign soil. Hannah-Rose Murray explores the radical transatlantic journeys formerly enslaved individuals made to the British Isles, and what light they shed on our understanding of the abolitionist movement. She uncovers the reasons why activists visited certain locations, how they adapted to the local political and social climate, and what impact their activism had on British society.
---
Putting America First, Forever: How the United States Suddenly Chose Armed Dominance
Tomorrow, the World: The Birth of U.S. Global Supremacy (Harvard University Press, 2020)
For most of its history, the United States avoided making political and military commitments that would entangle it in European-style power politics. Then, suddenly, it conceived a new role for itself as the world's armed superpower—and never looked back. In Tomorrow, the World, Stephen Wertheim traces America's transformation to the crucible of World War II, especially in the months prior to the attack on Pearl Harbor. As the Nazis conquered France, the architects of the nation's new foreign policy came to believe that the United States ought to achieve primacy in international affairs forevermore.
Scholars have struggled to explain the decision to pursue global supremacy. Some deny that American elites made a willing choice, casting the United States as a reluctant power that sloughed off "isolationism" only after all potential competitors lay in ruins. Others contend that the United States had always coveted global dominance and realized its ambition at the first opportunity. Both views are wrong. As late as 1940, the small coterie of officials and experts who composed the U.S. foreign policy class either wanted British preeminence in global affairs to continue or hoped that no power would dominate. The war, however, swept away their assumptions, leading them to conclude that the United States should extend its form of law and order across the globe and back it at gunpoint. Wertheim argues that no one favored "isolationism"—a term introduced by advocates of armed supremacy in order to turn their own cause into the definition of a new "internationalism."
We now live, Wertheim warns, in the world that these men created. A sophisticated and impassioned narrative that questions the wisdom of U.S. supremacy, Tomorrow, the World reveals the intellectual path that brought us to today's global entanglements and endless wars.
---
Gamer Nation: Video Games and American Culture (Johns Hopkins University Press, 2019)
Explores how games actively influence the ways people interpret and relate to American life.

In Gamer Nation, John Wills examines how video games co-opt national landscapes, livelihoods, and legends. Arguing that video games toy with Americans' mass cultural and historical understanding, Wills show how games reprogram the American experience as a simulated reality. Blockbuster games such as Civilization, Call of Duty, and Red Dead Redemption repackage the past, refashioning history into novel and immersive digital states of America. Controversial titles such as Custer's Revenge and 08.46 recode past tragedies. Meanwhile, online worlds such as Second Life cater to a desire to inhabit alternate versions of America, while Paperboy and The Sims transform the mundane tasks of everyday suburbia into fun and addictive challenges.
---
Experimental Games: Critique, Play, and Design in the Age of Gamification (The University of Chicago Press, 2020)

Drawing from his own experience as a game designer, Patrick Jagoda argues that games need not be synonymous with gamification. He studies experimental games that intervene in the neoliberal project from the inside out, examining a broad variety of mainstream and independent games, including StarCraft, Candy Crush Saga, Stardew Valley, Dys4ia, Braid, and Undertale. Beyond a diagnosis of gamification, Jagoda imagines ways that games can be experimental—not only in the sense of problem solving, but also the more nuanced notion of problem making that embraces the complexities of our digital present. The result is a game-changing book on the sociopolitical potential of this form of mass entertainment.
---
Professor Gordon H. Chang will discuss his new book, GHOSTS OF GOLD MOUNTAIN, which records a history of the Chinese workers who built the Transcontinental Railroad, helping to forge modern America only to disappear into the shadows of history until now. Gordon's presentation is about the challenge of historical recovery of lived experience without documents from the subjects and the significance of the Chinese railroad worker story for American history. After Gordon's talk, five invited researchers, Haitao Wang, Grazia Micheli, Flair Donglai Shi, Harriet Stilley, and Melody Yunzi Li, will join a roundtable discussing Chang's book and "ghosts" in Asian American studies. The event will end with a Q&A. You can view this talk and following discussion here.
---
"I wisely started with a map":Topophrenia and J. R. R. Tolkien's Literary Cartography, Wednesday 21 October 2020
In this talk, Robert T. Tally Jr. will briefly discuss his Topophrenia: Place, Narrative, and the Spatial Imagination before elaborating upon Tolkien's literary cartography in the making ofMiddle-earth, and he will argue for the critical importance of fantasy in shaping the sense of our own world today. J. R. R. Tolkien is best known for his epic fantasy novels, The Hobbit and The Lord of the Rings, and part of what has made these stories so compelling for readers around the globe is the striking detail and coherence of the world in which they take place. Tolkien actually began mapping out that imaginary territory much earlier, as he developed the corpus of interrelated tales that would become The Silmarillion, an incomplete work published posthumously. Maps, both real and imagined, figure prominently throughout Tolkien's work, and not merely for illustrative purposes. In The Hobbit, for instance, the discovery of Thrór's Map is the impetus for the adventure, and Tom Shippey has observed that The Lord of the Rings comprises a "cartographic plot." Tolkien himself mentioned that, in writing that novel, "I wisely started with a map, and made the story fit."
---
Beyond the Writing of Fiction: Other Edith Whartons, Wednesday 23 September 2020
Dr. Laura Rattray talked about her new monograph Edith Wharton and Genre – Beyond Fiction. Laura will also kindly share with us her experiences of publishing and thoughts on publishing for postgraduates and early-career researchers. Based on extensive new archival research, Edith Wharton and Genre: Beyond Fiction offers the first study of Wharton's full engagement with original writing in genres outside those with which she has been most closely identified. So much more than an acclaimed novelist and short story writer, Wharton is reconsidered in this book as a controversial playwright, a gifted poet, a trailblazing travel writer, an innovative and subversive critic, a hugely influential design writer, and an author who overturned the conventions of autobiographical form.
---
The Age of Innocence by Edith Wharton, Thursday 24th January 2019
The Age of Innocence is – along with The House of Mirth (1905) – one of Wharton's most famous novels.  It won the Pulitzer Prize in 1921, and many modern readers will know it from the 1993 Martin Scorsese film adaptation.  The novel is set in the world of late nineteenth-century Gilded Age New York, where Wharton had grown up (which she would call 'an empty vessel into which no new wine would ever be poured') and it uses this historical perspective to critique many aspects of that world – from its provincial outlook to its moral hypocrisy.  The Age of Innocence is, however, a love story and Ellen Olenska sits alongside Isabel Archer and Carrie Meeber as one of the great heroines of American fiction. We will be joined by an expert panel of Wharton experts, all part of the Transatlantic Literary Women Network.
LEAVING THE ATOCHA STATION by Ben Lerner, Tuesday 27th June 2017
In June 2017, Christina Brennan hosted the #bookhour discussion on Ben Lerner's Leaving The Atocha Station. Brennan, along with participants Sam Cutting, Emily Fisher, and Jessica Oliver, discussed the novel's exploration of the problems of translation, its relationship to politics, and Lerner's use of intertextuality, in particularly his invocation of John Ashberry and Raymond Williams.
THE MANDIBLES by Lionel Shriver
, Tuesday 25th October 2016
October 2016 marked our two year anniversary of #bookhour, and to celebrate this ongoing feature former U.S. Studies Online co-editor Michelle Green hosted a discussion of 'financial crisis dystopia' The Mandibles by Lionel Shriver with a panel of US and UK researchers. During the discussion Dr Kirk Boyle, Amy Bride, Sarah McCreedy and Michelle Green discussed Shriver's depiction of material culture, emotions and capitalism, and to what extent the novel is a dystopia or plays with dystopian tropes. Debates arose around how self-conscious Shriver's novelistic writing is, and if the novel is a Libertarian Candide or postmodern parody. The panellists ended the discussion by returning to The Mandibles as a neonaturalist novel, and left the chat asking, do the Mandibles achieve their capitalist utopia, and is a capitalist utopia achievable?
BLACK DOVE: MAMA, MI'JO AND ME by Ana Castillo, Tuesday 27th September 2016
On September 27th 2016, #bookhour organiser Donna Alexander, and Jessica Shine, Zalfa Feghali and Aishih Wehbe discussed Black Dove: Mamá, Mi'jo, and Me  by Ana Castillo. The dominant theme of their #bookhour chat was motherhood. They considered the centrality of maternity and cross-generational relationships among women in Castillo's Black Dove, as well as other books in her oeuvre. They also considered the ways in which motherhood is interwoven with identity in terms of race, class, gender and sexuality. Discussion leaders also investigated the role of activism in her writings, the expression of Xicanisma, and how even her choice of small, independent publishers is an act of resistance. The #bookhour closed with a consideration of the memoir genre, how Castillo and other Chicana writers of her generation play with and formally disrupt the memoir genre, Black Dove demonstrates that the act of remembering one's past goes beyond traditional narrative linearity.
ODDS AGAINST TOMORROW by Nathaniel Rich, Tuesday 30th August 2016
On Tuesday 30th August 2016, Dr Arin Keeble and Dr Lieven Ameel (with questions from Dr Sebastian Groes) joined #bookhour organiser Christina Brennan to discuss Odds Against Tomorrow (2014) by Nathaniel Rich. The discussion explored themes of visibility and time in relation to large-scale environmental decline and climate change. The conversation considered questions relating to 'slow violence' and its framing devices in contemporary literary; state complacency in the face of climate change; and the representation of disaster after 9/11. Other themes included questions of individual agency in the aftermath of environmental catastrophe and the ethics of prediction and algorithms in monitoring disaster. 
HYSTOPIA by David Means
, Tuesday 2nd August 2016
On Tuesday 2nd August 2016, Dr Dorothy Butchard, Dr Ciarán Dowd, Dr Deirdre Flynn, and Dr Dan King joined #bookhour organiser Dr Diletta De Cristofaro to chat about David Means' Hystopia, in the longlist for the Man Booker Prize 2016. The discussion focused on the form of the novel, both in its postmodern nested narratives and framing devices, and in its various story arcs; on the relationship between alternate history and trauma, as well as on that between individual agency and state intervention; and, finally, on the text's use of Baudrillardian tropes and its problematic depiction of women.
ZERO K by Don DeLillo
, Tuesday 31st May 2016
On Tuesday 31st May, Dr Kasia Boddy, Dr Catherine Gander, Dr Doug Haynes, Dr David Hering, and Professor Mark Osteen joined guest #bookhour organiser Rebecca Harding to discuss Don DeLillo's Zero K. The discussion explored the way themes from DeLillo's earlier fiction resurface in the novel, and the effect of this reusing of material. The conversation also focused on the presence of various art forms in the text and DeLillo's continuing interest in visual art in his work. Questions were also raised about the success of the novel's narrative techniques, and the role of humour, capital, and political elements in the text.
ON SUCH A FULL SEA by Chang-rae Lee, Tuesday 5th April 2016
On Tuesday 5th April, Dr Andrew Tate, Dr David Bell, Dr Louise Squire and #bookhour organiser Dr Diletta De Cristofaro discussed Chang-rae Lee's On Such a Full Sea. The chat focussed on the defamiliarisation produced by the first-person-plural narration, on how the novel negotiates between the collective and the individual, on acts of resistance as well as the notions of utopia and hope within the text, on the narrative's extrapolation from present circumstances and on what this extrapolation may suggest in terms of current ecological issues.
SIGNS PRECEDING THE END OF THE WORLD by Yuri Herrera, Tuesday 23rd February 2016
February's #bookhour marked the first of Twitter chat of 2016. Donna Alexander hosted a discussion of Signs Preceding the End of the World by Yuri Herrera, translated by Lisa Dillman. She was joined by Dr Francisca Sánchez Ortiz, Dr Laura Smith, and Lisa Dillman. They considered a range of issues including, the myth of emptiness, the allegory of the underworld and how this worked with Mesoamerican mythologies alluded to by Herrera. They also discussed the role of nature, the representation of cultural hybridity, and how the novella engages with the notion of global cities. Developing out of this is a discussion of the significance of location and language in Herrera's work and how these issues effected Dillman's approach to translation. The panellists also shared examples of other works of Mexican and Mexican American literature that engage with the border in similar ways to Herrera, sharing ideas from their research and teaching portfolios.
THE HEART GOES LAST by Margaret Atwood, Tuesday 24th November 2015
During November's #bookhour, Sam Cooper, Terri-Jane Dow, Dr Karma Waltonen, and #bookhour organiser Dr Diletta De Cristofaro discussed Margaret Atwood's latest dystopia, The Heart Goes Last (2015). The chat considered the satiric aspects of Atwood's novel, the characters, and the narrative focalisation – elements which sparked debates around the believability of the plot. The discussion also focussed on the notions of utopia and dystopia, on the role of surveillance and desire in the Positron Project, on the economic crisis and the text's suburban imagery.
PURITY by Jonathan Franzen, Tuesday 27th October 2015
October marked our twelfth #bookhour, and to celebrate the one year anniversary of this feature U.S. Studies Online co-editor Michelle Green hosted a discussion of Purity by "Great American Novelist" Jonathan Franzen with a panel of Franzen experts. During the discussion Dr Kristin J. Jacobson, Dr Daniel Mattingly, Iain Williams, Joanna Wilson and Michelle Green discussed Purity's position in the wider trend of 'big, so-called Dickensian novels', Franzen's wide-spanning critique of ideology as shrouding personal and corporate gain, and the noticeable lack of diversity in the novel that is accentuated by its inter-/intra-national context. Debates arose around Franzen's depiction of feminism, feminist characters and his authorial persona, along with the novel's intertextuality and the recurring presence of memoir in his later novels. The panellists ended the discussion with thoughts on Purity's conclusion, and left the chat asking, does Pip change in the end? Or is she doomed to repeat her parents' cycle?
THE WATER MUSEUM by Luis Alberto Urrea, Tuesday 29th September 2015
During September's #bookhour discussion, Dr Gwen Boyle, Dr Laura Smith, Dr Mila Lopez-Paleaz Casellas and #boohour organiser Dr Donna Maria Alexander conversed about The Water Museum by Luis Alberto Urrea. The stories in Alberto's collection gave way to a discussion about the range of genres and styles evident across the collection, from cli-fi to magical realism, and how these genres and styles reflect on the themes of environmental destruction, borders, loss and disappearance. The topic of disappearance led to a discussion of the representation of male and female characters in the stories, speculating on the relationship between the portrayals and absences of women with the recent femicides in Ciudad Juarez. The #bookhour closed with a consideration of the role of intertextuality in the collection with a particular emphasis on the role of the many film and music references that appear in the stories.
HERLAND by Charlotte Perkins Gilman, Tuesday 25th August 2015
During August's #bookhour discussion Dr. Fran Bigman, Dr. Ben Nichols, Dr. Joanna Freer and #bookhour organiser Joanne Mildenhall chatted about Charlotte Perkins Gilman's "Herland" (1915). The discussion looked at the question of Herland as utopia, considering the roles of the male protagonists and the functions of gender, sexuality, romance and love in the novella. Participants focused on the central concept of motherhood, and questioned whether Gilman's text could be considered feminist. The discussion also looked at the role of the state and considered the lack of diversity in the book, finally speculating on Gilman's possible motivations in creating the fictional world of Herland.
STATION ELEVEN by Emily St. John Mandel, Tuesday 28th July 2015
On Tuesday 28th July, Diletta De Cristofaro discussed Station Eleven by Emily St. John Mandel with Fran Bigman, Niall Harrison and Dan King. The panel focussed on the contrast between the beauty and violence of the post-apocalyptic world, and whether the novel could be considered a "quiet" post-apocalyptic novel; the structure of the plot and the connections it traces between space and time; the binary "great" art/popular culture – especially in light of the comic Dr Eleven and of the Shakespeare performances – and the lack of creativity of the post-apocalyptic world. The discussion also touched upon the ending of the book, the diversity of the characters and the Museum of Civilization.
GOD HELP THE CHILD by Toni Morrison, Tuesday 30th June 2015 
During June's #bookhour chat U.S. Studies Online co-editor Michelle Green (Nottingham) discussed Toni Morrison's most recent publication God Help the Child with a panel of Morrison experts from the US and the UK. Together Michelle and Professor Susan N. Mayberry (Alfred), author of the award-winning monograph Can't I Love What I Criticize? The Masculine and Morrison (2007), Dr. Justine Baillie (Greenwich), author of Toni Morrison and Literary Tradition (2013) and Dr. Leah A. Milne (Indianapolis) discussed how Morrison writes against the 'white gaze'; embraces a more didactic style in her later fiction; and has learnt to do more with less, as can be seen in the length of God Help the Child. The conversation frequently returned to God Help the Child as a survival manual for the black community and how the representation of money, child abuse and privilege compliments this reading . The panellists ended the chat with thoughts about Rain, the bodily transformation of Bride and God Help the Child's intertextual links to Ovid, Metamorphosis and Benjamin Button.
CAPE COD by Henry David Thoreau, Tuesday 26th May 2015 
During May's #bookhour discussion Dr. Ben Pickford, Dr. Michael Collins, Dr. Thomas Ruys Smith and #bookhour organiser Joanne Mildenhall discussed the practical and literary economies of Thoreau's Cape Cod (1865), the role natural and human histories play in the narrative, and the book's place in Thoreau's canon as well as in the larger arena of American literature. Debates arose around Thoreau's treatment of public and private property in relation to both land and literature, the relevance of historiography in the narrative and the significance of the book's structure. Comparisons were discussed with the work of Washington Irving, Herman Melville and Sarah Orne Jewett, centering on humour, genre and depictions of the natural environment. The discussion then moved on to the relevance of the book's environmental and human concerns today, and its significance in Thoreau's trajectory as an author.
MANANA MEANS HEAVEN by Tim Z. Hernandez, Tuesday 28th April 2015
During April's #bookhour discussion Dr Niamh Thornton, Dr Nicola Moffat, Eilidh Hall and Dr Donna Maria Alexander discussed the deeper meaning of the narrative and paratextual elements of the novel, the significance of biography in the third person, and how the landscape and cityscape functions alongside the two key characters of Bea Franco and Jack Kerouac. A number of questions arose from the discussion, including the extent to which the novel mediates differing notions of the American Dream in relation to race gender and class, and how the novel can be read as a departure and even a critique Kerouac's traditional ethnographer stance to authorship and writing. They rounded off the discussion by considering other books that have retold stories of marginal characters in books and history. The discussion leaders were joined by the author, Tim Z. Hernandez who responded to their questions and commentary.
EUPHORIA by Lily King, Tuesday 31st March 2015
During March's #bookhour discussion Dr. Rachel Sykes, Alice Lilly, Sima Jalal Kamali, Maxine Davies and U.S. Studies Online co-editor Michelle Green debated to what extent Lily King's Euphoria embraces and moves away from the historical fiction genre through the novel's structure, context and narrator. They considered the representation of privilege and power dynamics across lines of race, nation, gender and class, and how this is compounded by intellectual exchange and research collaboration throughout the novel. The discussion highlighted several key questions such as, to what extend is this novel "about" history? How can readers interpret the surprising counterfactual endings of the central three characters and the legacy of their scholarship? To what extent does Euphoria offer a powerful rumination on the value of solitude in research while exploring its antithetical relationship with human nature?
AMERICANAH by Chimamanda Ngozi Adichie, Tuesday 24th February 2015
On Tuesday 24th February 2015, 9-10.30pm GMT Dr. Madhu Krishnan (University of Bristol), Dr. Serena Guarracino (University of Naples), Dr. Rachel Sykes (University of Nottingham) and Sima Jalal Kamali (University of Sussex) joined U.S. Studies Online co-editor Michelle Green to discuss AMERICANAH by Chimamanda Ngozi Adichie.
During this 90 minute chat we discussed the representation of "good" and "bad" blackness in the novel, and how this resonates with Adichie's refusal of the Afropolitan label and Ifem's "blackless" Nigeria. We debated what the novel loses in prioritising the love story at the close of the narrative, and some of the weaker aspects of the writing, such as Adichie's representation of success, contemporary media and blogging as a form of social commentary. Finally we ended the discussion with reflections on Americanah's effortlessly successful heroine, Ifem – how much does femininity help Ifem in America? How do we make sense of her success in relation to Obinze who more fittingly reflects the Afropolitan theme of being "hungry for choice and certainty"? Is the title a critique on her development and her story?
REDEPLOYMENT by Phil Klay, Tuesday 27th January 2015
On Tuesday 27th January 2015, 9-10pm GMT Assistant Professor Aaron DeRosa (California State Polytechnic University), Dr. Peter Molin (Rutgers University) and Associate Professor Patrick Deer (New York University) joined U.S. Studies Online co-editor Michelle Green (University of Nottingham) to discuss REDEPLOYMENT by Phil Klay, the winner of the 2014 National Book Award.
During this hour long discussion we discussed if the canon of war literature now demands a non-fragmentary war narrative that moves towards the novel form; the ambiguity of evoking military language as an exclusionary or inclusionary narrative device, and if this changes over time; and a few limitations of the collection – is Klay's voice too prevalent? Could Klay have been bolder by including a story from the perspective of a women, a gay officer or an Iraqi or Afghani civilian? Or do we perceive this absence as a limitation due to our own normative expectations of contemporary war fiction?
LET ME BE FRANK WITH YOU by Richard Ford, Monday 29th December 2014
On Monday 29th December 2014, 9-10pm GMT scholars Jennifer Daly (TCD) and Dr. Gillian Groszewski (TCD) joined Co-Editor Michelle Green (University of Nottingham) to discuss the fourth instalment in Richard Ford's Bascombe series, his 2014 novella Let Me Be Frank With You. Catch up on their conversation here and see how they tackled Ford's controversial representation of race, place, Hurricane Sandy and Obama's legacy. Find out what they thought of Frank's character development (does he develop?), his contradictions (can he really say "place means nothing" now?), and his future (is the last we have seen of Ford's "uncommon man"?)
LILA by Marilynne Robinson, Tuesday 25th November 2014
In the first ever #bookhour twitter chat Marilynne Robinson scholars Dr. Rachel Sykes (formerly University of Nottingham), Anna Maguire (University of Sussex) and Jenny Daly (TCD) joined U.S. Studies Online Co-Editor Michelle Green (University of Nottingham) to discuss Marilynne Robinson's latest publication, Lila, the final novel in Robinson's Gilead trilogy.
What emerged was an insightful and fast-paced discussion in which the group explored the idea of Robinson as the true central character of the series, and to what extent Robinson's Gilead trilogy can be described as a series of "shared intimacies" with Ames. They rounded on the question, is Lila an American novel, and if so whose "America" is this? How ordinary or extraordinary is Lila and her circumstances? Does Lila include a social reformist message, and does it translate to our era?
Christina Brennan (@cmbrennan_) is a PhD in the division of English Literature and American Studies at the University of Manchester, UK. Her thesis examines representations of natural disaster in cities in late twentieth-century and twenty-first-century North American fiction. She previously studied at the University of Leeds and her wider research interests include literature on war, migration and displacement in the United States.
Michelle Green (@MGnotts) is an AHRC-funded PhD student in the department of American and Canadian Studies at the University of Nottingham, UK and former co-editor of U.S. Studies Online (2014-2016). Her current research examines representations of fatness and "obesity" in late twentieth-century and twenty-first century North American fiction, building on her wider interest in medical moral panics, gender and genre theory, and contemporary Anglo-American writing. She has previously published on writer Margaret Atwood. Michelle is also the web editorial assistant for the British Association for American Studies (BAAS), and the web editor for the European Association for American Studies (EAAS) and the European Journal of American Studies (EJAS).
Joanne Mildenhall (@doneoveroff) is a final year PhD candidate and Associate Tutor at the University of East Anglia. Her thesis looks at ways in which the natural environment influences and defines ideologies in antebellum, and particularly Nineteenth Century, American literature.