"We Shall Overcome" bridges the civil rights movements in the United States and Northern Ireland, says Glen Whitcroft, but does this overlook the musical diversity in Northern Ireland's protest history?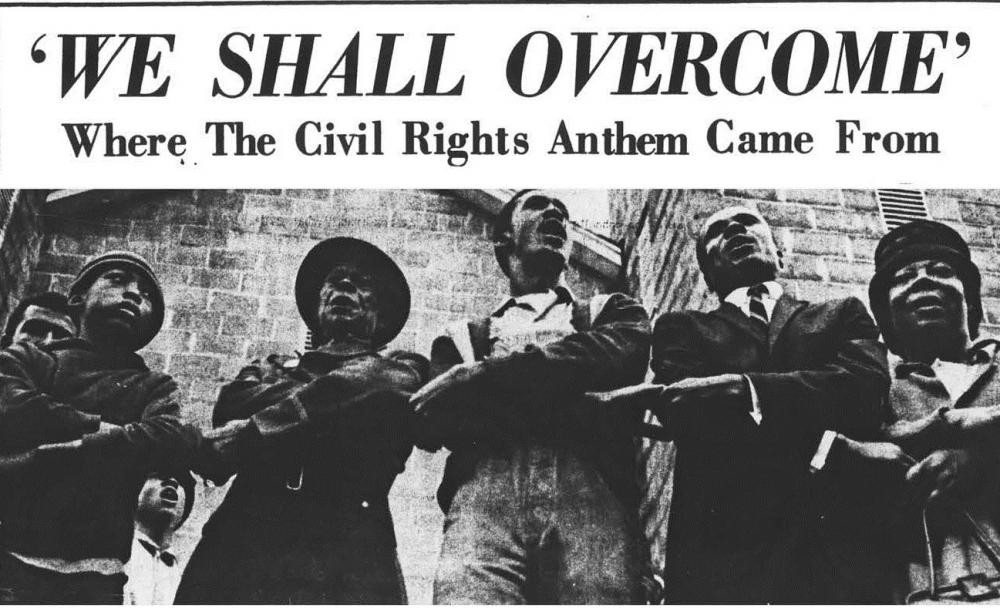 As the civil rights movement rolled across the United States in the latter half of the twentieth century, people from all walks of life were engulfed by a defiant mission to end racial segregation, discrimination and obtain voting rights. As the burgeoning movement impacted the U.S. South, its strategies and victories rippled across the Atlantic and inspired and fortified the ambitions of Northern Irish Catholics and invigorated their quest for civil rights. Throughout the 1960s, the everyday man, woman and child, on both sides of the Atlantic, protested in various forms; marches, bus boycotts, sit-ins and freedom rides. Beyond this, historians have looked increasingly at the role music played during the American freedom struggle. Music offered a multifaceted approach to protest – a wide spectrum of singers encompassing numerous genres lent their voices to the movement through song, artists used their eminence to demand the desegregation of audiences at concerts, raise necessary funds, and influential white musicians took advantage of their popularity and presented their petition for equality. Academics surveying the Northern Irish civil rights movement have largely ignored the cultural elements associated with such a campaign and focus predominantly on the political components. With that in mind, this post, and my PhD project as a whole aims to ignite a discussion on the cultural elements of the civil rights movement in Northern Ireland, in light of the movement in the United States, with an emphasis on music. Here, the transnational impact of "We Shall Overcome" will be discussed and its presence within the respective movements analysed.
Many assumptions have been made in regards to potential cultural similarities between the respective movements, and in turn the music that would provide the soundtrack to the struggle for equality and freedom on both sides of the Atlantic. The songs used to support the fight for civil rights in the United States, were the same songs birthed on the plantations; songs that gave slaves sanctuary, strength, and hope. Booker T. Washington, an African American academic and leader, wrote that, 'the plantation songs known as "Spirituals" are the spontaneous outburst of intense religious fervour… They breathe a child-like faith in a personal Father, and glow with the hope that the children of bondage will ultimately pass out of the wilderness of slavery into the land of freedom.'[1] Bernice Johnson Reagon, a scholar and civil rights activist comments that, 'as a singing participant in the Movement, I began to notice how well the old songs we knew fit our current situation. Many of the freedom songs we sang we had learned as spirituals, sacred songs created by slaves.'[2] A simple change of one word could see a traditional spiritual sung on the plantation transform into a freedom song that encouraged an assembly of African Americans to persevere in their common cause. The parallel between the spiritual and freedom song was highlighted by Martin Luther King, who emphatically noted, 'we sing the freedom songs for the same reason the slaves sang them,' maintaining that in the twentieth century African Americans were still in bondage and the 'songs add hope to our determination that "We shall overcome, Black and white together, We shall overcome someday." These songs bound us together, gave us courage together, helped us march together.'[3] "We Shall Overcome" was a song that epitomized the enduring African American struggle.
Pete Seeger discussing "We Shall Overcome" from 3mins – 5mins 20sec.
"We Shall Overcome" is a phrase synonymous with the civil rights movement. These three words echoed through church congregations, billowed down streets laden with protestors, and comforted those burdened with the weight of inequality. Adapted from the Negro Spiritual "I'll Overcome Someday", this song simultaneously conveyed a sense of defiance and determination, whilst providing a feeling of hopeful optimism to the African American community. "We Shall Overcome" also resonated with the struggle in Northern Ireland, where Catholics were subjected to discrimination in relation to housing allocation, employment and voting rights. Stuart Stotts comments:
"We Shall Overcome" is not elaborate or complicated. The first verse has only twenty-two words, and most of them are repeated. The melody is straight-forward and easy to learn. The chords are basic. Overall, the song could hardly be simpler. Yet it has played a unique and important role in United States history. Even beyond our borders, it has provided strength, connection, courage, and faith to millions of people working to make our planet a more peaceful, just, and loving place.[4]
"We Shall Overcome" epitomized W.E.B. DuBois' statement in Of the Sorrow Songs, in which he stated 'the minor cadences of despair change often to triumph and calm confidence. Sometimes it is faith in life, sometimes a faith in death, sometimes assurance of boundless justice in some fair world beyond. But whichever it is, the meaning is always clear: that sometime, somewhere, men will judge men by their souls and not by their skins.'[5] A sense of despair is prevalent in the song; the fact the African American community have to overcome the burden of racism and discrimination. However, concurrently, a sense of triumph and determination reveals itself in lyrics such as 'we are not afraid' and 'we shall live in peace,' with a confident proclamation that, one day, 'we shall all be free.' When speaking of "We Shall Overcome", Reverend Wyatt T. Walker, has commented that;
One cannot describe the vitality and emotion this hymn evokes across the Southland. I have heard it sung in great meetings with a thousand voices singing as one. I've heard a half a dozen sing it softly behind the bars of the Hinds County prison in Mississippi. I heard old women singing it on the way to work in Albany, Georgia. I've heard students singing it as they were being dragged away to jail. It generates power that is indescribable.[6]
Joseph O'Donoghue notes that 'The Northern Ireland civil rights movement of the 1960s bears a strong resemblance to the civil rights movement that took place in the United States during the same decade. A minority in both cases had experienced a long period of clearly evidenced discrimination in voting, housing, and economic advancement.'[7] Further, Benjamin Gidron notes how groups such as the Northern Ireland Civil Rights Association (NICRA) and People's Democracy 'followed the example of the international civil rights movement by employing techniques of peaceful protests – particularly the mass march – to campaign against discrimination, gerrymandering, the slow pace of reform, and the partisan character of security services.'[8] To what extent, however, did activists and protestors in Northern Ireland follow the example of the U.S. movement in their approach to cultural protest, and in particular, the use of the song "We Shall Overcome"?
Cultural elements within the movement in Northern Ireland have been referenced by academics, and much of the literature is laced with transitory mentions of protestors collectively singing "We Shall Overcome", however there is little to no examination or discussion of the impact music and cultural expression had on the movement in Northern Ireland. What is perhaps most frustrating in regards to the ephemeral mentioning of protest music in the movement in Northern Ireland is the academic fixation on "We Shall Overcome". The harsh reality is, that although there is no disputing "We Shall Overcome" resonated with oppressed Northern Irish Catholics, it wasn't as widely known as academics suggest. Evidence suggests that the song was sung across Northern Ireland 'as people took to the streets in Strabane, Armagh, Belfast, Dungannon and elsewhere,' so its presence within the movement cannot be denied.[9]   However, there are grounds to argue that the song was not as omnipresent in Northern Ireland as it was in the United States. Betty Sinclair, a member of the Northern Irish Communist Party and a chairperson of NICRA until 1969, noted that an attempt to ignite a chorus of "We Shall Overcome" following the first civil rights march from Dungannon to Coalisland was unsuccessful as many protestors were unfamiliar with the words and instead sang the rebel song "A Nation Once Again".[10] Regardless, the literature on the Northern Irish movement is heavily fixated on cursory mentions of the song, whilst ignoring other songs that may have had more relevance and influence on the movement in Northern Ireland. Bernadette Devlin, commenting on the Dungannon to Coalisland march, confirms that an attempt to sing "We Shall Overcome" was unsuccessful and replaced with a rousing version of "A Nation Once Again". Beyond this, Devlin refers to other songs that were sung or performed by bands on the day. For example, "Who Fears to Speak of '98", an anti-British ballad commemorating the United Irishmen uprising of 1798, and "Faith of Our Fathers," an English Catholic hymn which according to Devlin is frequently played at nationalist gatherings and 'betrays the old mentality that equates Irish and Catholic,' were sung.[11] During the Belfast to Derry march in January 1969, which was modelled on Martin Luther King's Selma to Montgomery march in 1965, Bernadette Devlin recalls that they sang 'Orange songs, Green songs, red, black and white songs, and just general pub-crawling and rugby songs, to keep us marching…'[12] It is evident that there was a soundtrack to the movement in Northern Ireland, one that expanded far beyond the quiet determination of "We Shall Overcome".
Footnotes
[1] L. R. Harlan & R. W. Smock (eds), The Booker T. Washington Papers. Vol. 8, 1904-6, (Illinois: University of Illinois Press, 1979), p. 116.
[2] B. J. Reagon, 'Let the Church Sing "Freedom"' in Black Music Research Journal, (Vol. 7, 1987) pp.105-118.
[3] M. L. King Jr. & C. Carson (ed.), The Autobiography of Martin Luther King Jr., (New York: Warner Books, 1998), p. 178.
[4] S. Stotts, We Shall Overcome: A Song that Changed the World, (New York, 2010), p. 12.
[5] W.E.B. DuBois, The Souls of Black Folk, (New York, 1903).
[6] B. J. Reagon, 'Let the Church Sing "Freedom"' in Black Music Research Journal, (Vol. 7, 1987) pp.105-118. Also referenced in G. and C. Carawan, Sing for Freedom: the story of the Civil Rights Movement through its Songs, (Montgomery, 2007), p. 8.
[7] J. O'Donoghue, "Northern Ireland Violence: A Possible End," in, F. Denmark & L. Adler (eds), International Perspectives on Violence, (Westport: Greenwood Publishing, 2004), pp 111-128
[8] "Contextualizing Peace and Conflict-Resolution Organizations in South Africa, Northern Ireland, and Israel/Palestine," in, B. Gidron, S. N. Katz, and Y. Hasenfeld (eds), Conflict Resolution in Northern Ireland, Israel/Palestine, and South Africa (New York: Oxford University Press, 2002).
[9] B. Dooley, Black and Green: The Fight for Civil Rights in Northern Ireland and Black America, (London: Pluto Press, 1998), p. 54.
[10] Betty Sinclair, quoted in R. Bourke, Peace in Ireland: The War of Ideas, (London: Pimlico, 2003), p. 64.
[11] B. Devlin, The Price of My Soul, (London: Pan Books, 1969), pp 170-2.
[12] B. Devlin, The Price of My Soul, (London: Pan Books, 1969), p 126.
[starbox]